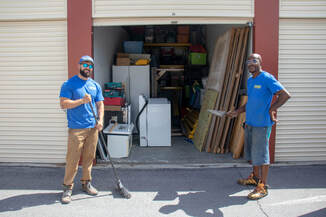 If you are the owner or manager of a storage unit facility, no doubt you have had the unfortunate experience of getting stuck with an abandoned storage unit from time to time. For whatever reason, some people just will do that; leave everything behind and never return to claim their stuff. Some fall short of paying the storage unit fees and just disappear while others might inherit the unit from a deceased relative and have no desire to keep it. When that happens, owners are often too busy to perform a cleanout. That is where the energetic and efficient help from our junk removal professionals comes in handy. Our storage cleanout teams have just the right amount of skill to empty any storage unit, large or small. Done Rite Hauling is a company that is there for our customers in any and all cleanout projects. We take pride in a job well done, whether it be a storage unit or some other area in need of junk removal. Our rental dumpsters are at your disposal should you want to actually clean out a storage unit in your own time. Just fill the container and our junk removal pros will come back to take it all away for disposal.
If you are the renter of a storage unit and are ready to claim your possessions, Done Rite Hauling has the manpower and the hauling trailers to assist you with your cleanout. You can also use the option of one of our rental dumpsters for a do-it-yourself storage unit cleanout.
You Load and Leave the Hauling to Us. No Muss, No Fuss.
727-365-7892.