A property that has been foreclosed on affects more than one individual. Obviously, the persons living in the house are the direct victims of a foreclosure action but the situation also involves banks, mortgage companies, property managers and real estate agents. We have seen many foreclosed homes left in chaos after a tenant moves out and leaves a hodgepodge of clutter, debris and even vandalized walls and fixtures. The aftermath calls for professional cleanup services. Done Rite Hauling offers junk removal and cleanouts for residential and commercial properties in foreclosure. We have trained personnel that does cleanups and junk removal efficiently and thoroughly.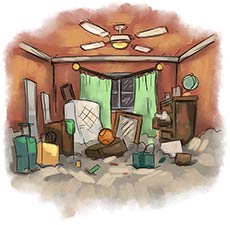 Our services are available to those being forced out (there are actually some folks out there that clean up after themselves in spite of the foreclosing procedures.) Banks that hold the rights to a foreclosed property seldom have time to clean up these homes. That's where Done Rite Hauling comes into the picture. Our well trained professional cleanout teams help speed up the junk removal and cleaning process, allowing a property to be put back on the market. Property managers love that they can rely on our professional cleanup crews to get an apartment complex whipped into shape after a foreclosure. It keeps them in good standing with the condo or apartment owner for whom they work. Realtors sometimes opt to rent one of our dumpsters to keep on the property while they fill up the container themselves. Whatever your foreclosure clean out needs may be, you can depend on our junk removal pros and company owned trailers to do the job "RITE."
Whether you are the one being foreclosed on or the persons responsible to clean out the mess, you won't find a junk removal company that can do the cleanup better than Done Rite Hauling! Use our manpower to load up your stuff or do it yourself with one or more of our rental dump trailers.
Let Us Handle the Cleanup.
727-365-7892.