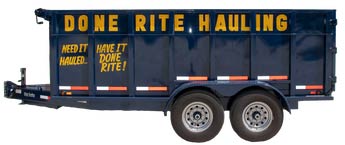 Done Rite Hauling offers trailer and dumpster rentals. Our trailer rentals are available for full property cleanouts, entire household cleanouts, foreclosure cleanouts and miscellaneous debris removal. Our rental dump trailers come in handy for office cleanups and junk removal. Due to the fact that our rental trailers belong to our company and we don't have to depend on an outside rental trailer business to accommodate our customers, our junk removal professionals have access to a trailer or dumpster pretty much on a moment's notice, allowing us to be a business that offers same day service. Done Rite Hauling junk removal containers have ample room for large, as well as small items.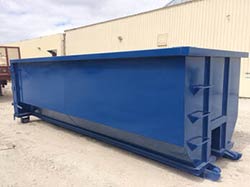 Our trailers are sturdy enough to hold dirt, rocks and decorative stones. Our junk removal driver/haulers have the experience and know how to load a trailer properly, logically and safely. A trailer or dumpster has to be balanced and handled with care and our guys do just that. That is the reason our dump trailers stay in good working condition. A tipped trailer is a safety hazard. We offer different size trailers, each matched to the individual junk loading and hauling job being performed. Even if you do your own property cleanups and household cleanouts, chances are you don't have the hauling equipment necessary for junk removal. Done Rite Hauling rental trailers and dumpsters provide an excellent convenience for all of your property and commercial cleanouts and junk removal.
We Can Help Find the Perfect Dumpster for Your Project.
727-365-7892.