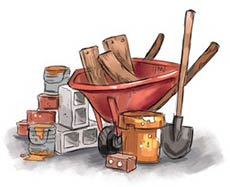 Sheds are great and provide needed storage space on any property but eventually the day comes when the shed starts to show its age. Wooden or metal, the shed deterioration means it's time to tear the structure down and get rid of it. Wood rots after many years of exposure to the elements, such as rain and wind. Metal tends to rust after awhile. Our junk removal pros not only remove and haul away any size shed….they can tear them down also. In many cases that our junk removal crews have come across, long standing sheds or outbuildings become the least noticed part of a property and just waste away over time. Why don't folks just give it up and get rid of the godforsaken eyesore? More likely than not, shed owners have no idea how to accomplish such a feat and so the poor forlorn building just sits and fades away in its own disrepair. Even if a property owner has the expertise to take the shed apart, they might not realize that our company offers rental dumpsters to customers. You load, we haul away.
Done Rite Hauling junk removal crews are experts in shed tear down and removal and our guys can clear your yard in no time at all and make way for a new structure or whatever improvement you have in mind. In addition, if the shed is still home to an old rusted out lawn mower, yard tools or any other junk, our professionals can save you time and energy by doing a complete cleanout and removal of all items. You decide if there is anything you want to hang onto and our haulers will toss all unwanted stuff onto one of our trailers or dumpsters and relocate everything to an appropriate place of disposal.
You Load, We Haul Away.
727-365-7892.