Done Rite Hauling
St Petersburg FL
At Done Rite Hauling in St Petersburg, we are a full service hauling and junk removal company that can haul away anything and everything.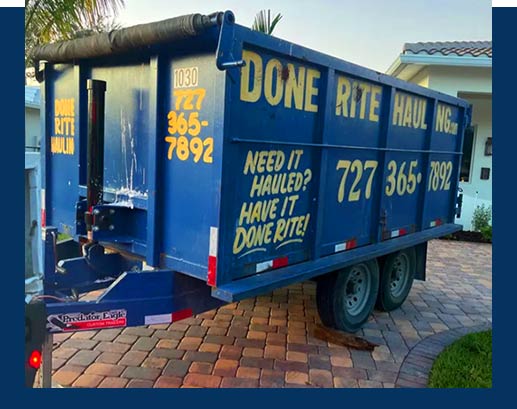 Here's Just a Few of the Items We Can Haul Away:
Garbage / Waste
Furniture
Large / Small Appliances
Electronics
Household Items
Yard Waste
Special pricing may apply for certain items including:
Paints, Chemicals, and Electrical Items.
---
Dumpster Sizes

For Any Project
Our Junk Hauling Solutions Include:
Drop Off Trailer Rentals
Dumpster Roll Off Boxes
Containers
Learn More
Most Popular Dumpster Size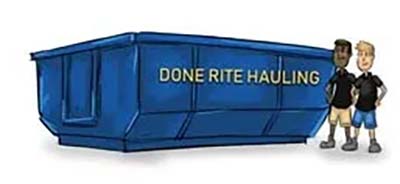 20 Yard
Great for Large Projects
Big Construction
Request Quote
Also Offering Dump Trailers
We have drivers and haulers with the experience to load a trailer right. Dumpsters and trailers need to be safely balanced and handled with care and our haulers are experts. Just one of the reasons our dump trailers continue to stay in great shape.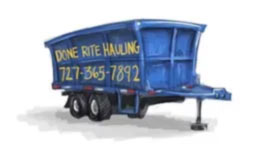 10 Yard
Request Quote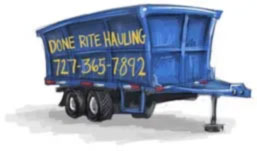 15 Yard
Request Quote
Dumpster Rentals
Starting At Just $175
Load It Yourself,

or

Let Us Load It for You!

Done Rite Hauling works with Homeowners, Realtors, Property Managers, Banks, Mortgage Companies, and more. Our specialty is Property Preservation. We can handle the entire clean out and clean up of a property from start to finish. Whether you need some demolition work, your garage cleaned out or just a couple of items picked up. Done Rite Hauling has the experience and prices that are right for you.
Recycling
We also recycle everything we can. This includes:
Aluminum / Copper / Scrap Metal
Dirt / Sod / Cement
Tile
Batteries
and more!
Call us for a FREE no obligation estimate.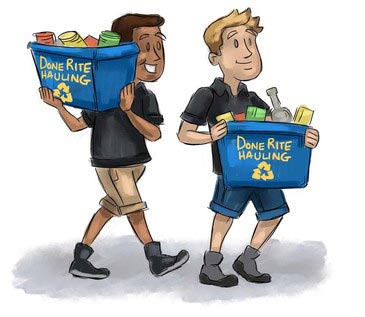 Call us for a
FREE no obligation estimate.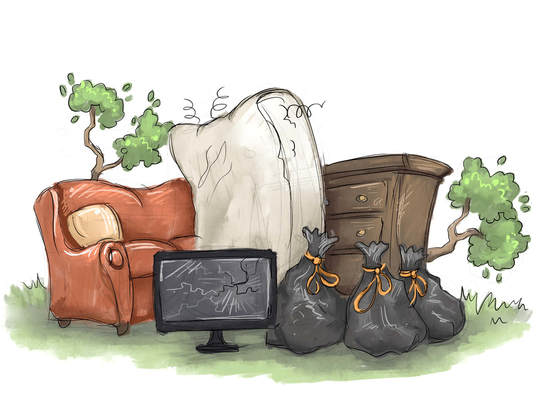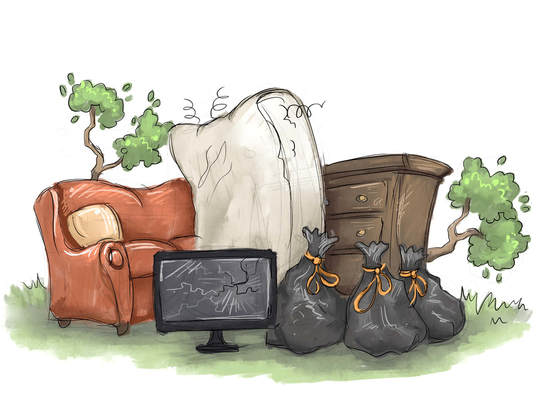 Junk Removal
Just what is "junk removal?" It's the service that Done Rite Hauling does better than any other company. The reason for that is that our employees and management take a customer's needs into strict consideration. We are an eco-friendly business and many of our junk removal and dump trailer rental clients like the fact that we turn as many things as possible over for recycling and even donate to charity on occasion. When we talk "junk removal" we are actually including items other than those that are purely junk. We take things that a customer might just be replacing with something new or upgraded. Our company supplies dumpster rentals, as well as trailer pickups. Junk or not, Done Rite Hauling has you covered.
Client Reviews
We had two large piles of concrete and a shed removed from our yard. I am blown away by the work of Done Rite. They went above and beyond and meticulously cleaned the site. They were prompt, courteous, and very fairly priced.
Kate S.
Being a business owner myself I hold other companies to as high of standards as I hold my own. Was very pleased and impressed with this hauling company. Stuck to their price, showed up on time, no surprises. 5 star company.
William C.
Hired Done Rite last year to drop off a dumpster behind my store. My employee told them to put in the wrong spot. Once I realized the mistake, I called the Done Rite office and asked if they could move it to a new location. The driver who delivered it came all the way back to my store and moved it even though he was long gone. The customer service is outstanding and the price is far better than any other hauling company in Tampa Bay. Call around for price comparisons, you'll be amazed.
Todd W.
Loading Service
Our junk removal pros are experienced in the art of loading a trailer. YES! I said "art" because that is precisely how Done Rite Hauling crews handle each trailer that they fill (artfully.) It's important to make sure a vehicle is balanced correctly to avoid unforeseen tip-overs or dangerous accidents. Our guys have been in the junk removal and dumpster rental business long enough to recognize the importance of loading heavier items in the front of the container and to distribute all articles as evenly as possible. Of course once a trailer is filled to capacity, our drivers haul the whole load to a proper place of disposal, such as a legal landfill, a recycling facility or charitable organization.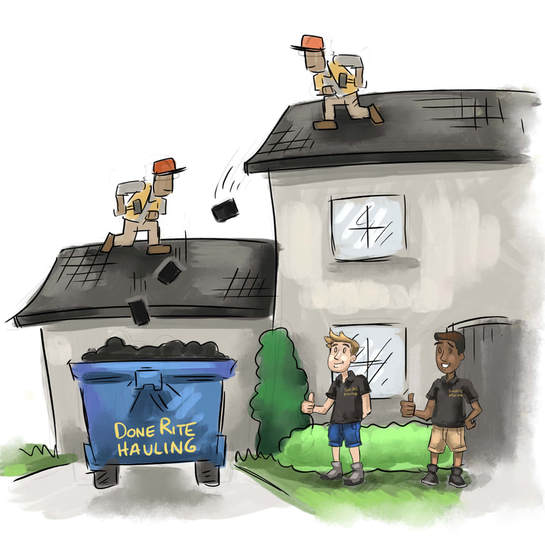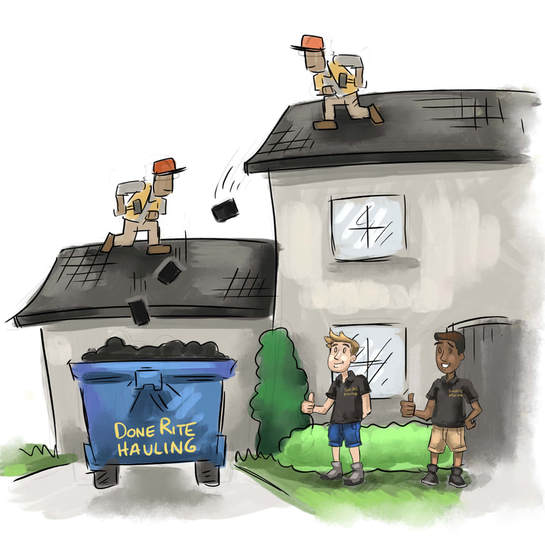 Are You a Roofer?
Every professional roofing company is familiar with the dilemma of roofing debris and waste that adds up during a repair or replacement. The rental of one of our trailers or dumpsters relieves a roofing contractor from the expense of buying their own waste containers. It turns out to be a more economical way for roofers to conduct business. In addition, being able to have a dump trailer close up and near to a project in progress provides a safer, neater and more organized option. Roofers and their customers appreciate the time that is saved with the use of a Done Rite Hauling trailer or dumpster rental. We have witnessed some less experienced roofing companies that merely spread a big tarp on the ground and toss all debris onto that but the lack of sides for containment of the miscellaneous material often causes debris to land off the ideal target, which could turn out to be hazardous to folks passing by or even cause significant property damage to a building, plants or shrubs. If you are a roofer, do the smart thing and call for our junk removal trailer and dumpster rental services. You toss the junk and debris into our sturdy and reliable rental dumpsters and we haul it away.
Your #1
Dumpster Rental Service
Proudly Serving Both
Homeowners and Contractors.
Ask About Contractor Pricing
Allow us to handle what your curbside service company won't. We can also deliver rock, mulch, dirt, etc. Who needs another 1-800-Junk company! We offer the same service at a better price but we can also leave the container for you to load. Can they do that?
Done Rite Hauling is your solution for Hauling and Junk Removal in the St. Petersburg area. Give us a call today to schedule an appointment or get a free estimate, and find out why so many in St Petersburg and beyond come to us when they need professional junk removal and hauling services that they can rely upon.
Who Can Benefit
From Our Services?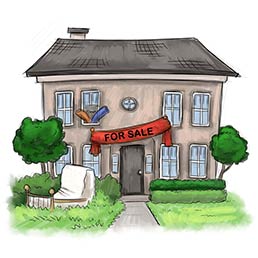 Realtors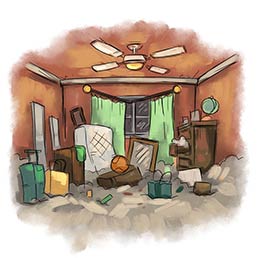 Homeowners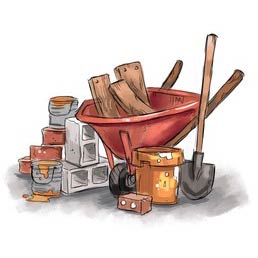 Contractors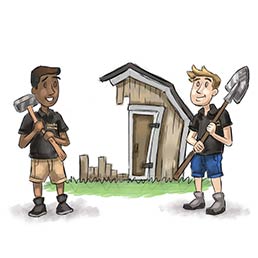 Property Managers
Same Day Service, 7 Days A Week.
24 Hours A Day.
727-365-7892.