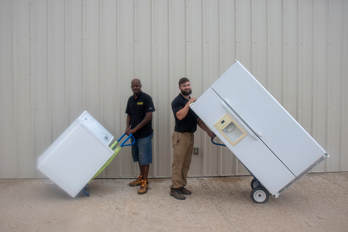 It takes the right equipment coupled with the perfect professional junk removal and hauling company to handle the removal of heavy appliances. Done Rite Hauling drivers have the means and the muscle to carry it off.
Our team of junk removal and hauling professionals come prepared to every job and we will take care of everything.
We remove the following appliances:
Refrigerators: If that 15 year old refrigerator is making strange noises, why hang on to it when you can count on a junk removal pro from our company to haul it away?
Freezers: We will remove freezers of all makes and models, upright or chest. If you are remodeling and replacing your current freezer, let our junk removal guys help by getting rid of the old freezer.
Stoves: Are the burners on your stove working on a "touch and go" basis? Besides being annoying and frustrating, the stove could pose a danger.
Dishwashers: How clean are those dishes when you remove them from the dishwasher? If they come out looking pretty much like they went in, it might be time to swap the machine out for a newer model. If you just want to upgrade, that's no problem. Our junk removal teams will take away any size dishwasher no matter what condition it is in.
Washing Machines: Maybe you just discovered that the washer you purchased before your kids came along just isn't big enough any more. Let Done Rite Hauling experienced appliance and junk removal pros haul the inadequate washing machine off to different pastures so you can make room for a larger one.
Clothes Dryers: Have you been trying to figure out what to do with the clothes dryer just sitting unused in the garage? Done Rite Hauling is the answer. Call us for prompt removal. Our appliance and junk removal services include appliances of all sizes.
Affordable Prices for Quality Work. Call
727-365-7892.