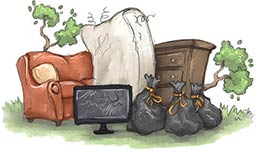 When was the last time you took a good look at your garage? If you're like a lot of people, it's probably been a while. Garages tend to turn into storage areas and superficial cleanups are implemented from time to time but that three legged kitchen table remains in the corner along with the old recliner that stopped reclining a long time ago. Then there is the matter of all of the smaller miscellaneous junk piled up on the garage shelves. Maybe you saved those half empty paint cans from four or five years ago. It might just be time for a full cleanout from our company junk removal experts. Not only does the garage look unseemly, it might also be a matter of lack of safety for you and your family. Some folks store old refrigerators in the garage and fail to remove the doors. That, alone, is dangerous if children live in the house. Leave the professional cleanouts to the professionals and give us a call today.
Our experienced teams of junk removals have the advantage of the use of our company owned trailers and rental dumpsters. Our vehicles and receptacles are always prepared and ready to roll for all garage cleanups. All items, large and small, can be hauled away by our garage cleanout specialists expediently and efficiently. Our junk removal pros work with all size garages….single, double and triple. In the rare neighborhood, we might run across a garage even larger and our guys have no problem with that large a cleanup anymore than they do with a small garage. Dumpster rentals are available for "do-it-yourselfers." You rent and load up the container with all your junk. We deliver the dump trailer and pick it up once you have completed the fillup.
Don't wait too long to call Done Rite Hauling for your garage cleanup and junk removal projects.
The sooner we tackle the job, the better for your peace of mind.
Schedule a Garage Cleanout Today.
727-365-7892.