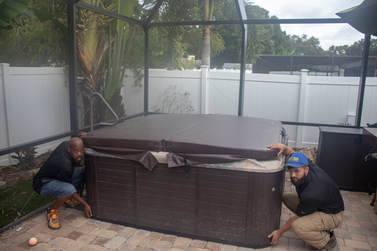 What good is a hot tub when it has stopped working and can't be repaired? Let's just call it like it is…NO GOOD! As a business that deals with junk removal on a daily basis, we have discovered that most people seem to hit a brick wall in their quest for a reliable and cost efficient way to remove and get rid of a non-working spa. When you turn to Done Rite Hauling, the search will be over. We have a crew of hard working individuals that will take care of the removal of your hot tub carefully and correctly. They will then use one of our company owned trailers to haul the whole thing away. Our cost of spa removal is quite reasonable and our junk removal services outshine all other hauling companies. Most city operated waste collection companies won't accept spas or hot tubs for disposal so we like to go the extra mile in our business by assisting customers in this area of junk removal. Our trailers and rental dumpsters are built to bear the weight of a spa and we take a direct route to the landfill for proper disposal. So, if you were thinking of replacing your hot tub but are having second thoughts due to the removal and price uncertainty, now is the time to "take the bull by the horns" and call for our hot tub removal professional team to start the process of removal and hauling away. Even if you were to tackle the spa removal on your own, you would still need a reliable trailer or dumpster to take it away.
Done Rite Hauling offers you convenience and peace of mind by providing the required transportation.
Need Hot Tub or Spa Removal? Call Now.
727-365-7892.