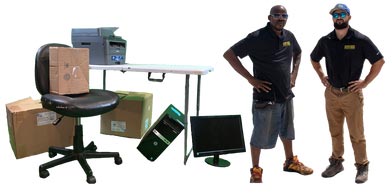 Our junk removal crews use our sturdy trailers and dumpsters to remove and haul away desks and desk chairs, couches and chairs, carpeting, office kitchen equipment (microwaves and refrigerators) electronics (computers, printers and monitors.) Whether you are moving office locations or just upgrading, our experienced haulers can do the job. Commercial businesses can rely on us to remove shelving, work related appliances, old equipment, tables and chairs and all commercial and office paraphernalia. We will also accept miscellaneous wall hangings and knick knacks. Switching out the carpeting? Our junk removal services include removal of floor coverings (including tile and wood.) We even take such items as plumbing fixtures (sinks and faucets) if your place of business is undergoing a major remodel. Changing up an office area or commercial business takes time away from working hours, not to mention the energy needed to deal with all the hassle. Do yourself a favor and leave all the furniture and junk removal to the experts from our company, Done Rite Hauling. We have the knowledge, muscle, expertise and vehicles to remove everything. Large and small, we will take it all! Our trailers and dumpsters are top of the line and built to carry heavy loads. I should mention that we also have rental dumpsters should you actually choose to do the hard work of loading a dump trailer yourself. No matter which junk removal option you select, you will not regret hiring our company to take care of your office and commercial related furniture and junk removal cleanups.
Trust your office furniture removal with the experts.
Call 727-365-7892 today.