When you have been in the junk removal and hauling business as long as we have, it's safe to say that we have seen just about everything in the arena of cleanouts and junk removal. Some hauling companies are loathe to handle hoarding situations and therefore, won't do those type of cleanups. We, at Done Rite Hauling, are proud to say that we are ready, willing and able to take on the difficult task. Our junk removal teams work in a professional manner and make no judgments. If you or someone you know has fallen into the unfortunate cycle of hoarding, we invite you to call for our junk removal assistance.
No matter the challenge, our guys can handle it.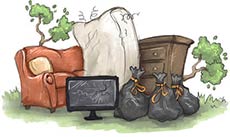 They will remove hoarding objects, such as stacks of newspapers and magazines. They will take away broken appliances and worn out furniture. Now, that is the easy part but sadly, some hoarding situations are so bad that innocent animals have to be removed (Done Rite Hauling teams will contact animal shelter resources.) Bags of garbage and boxes of trash and debris will never see the light of day again after our junk removal cleanout teams are finished. Hoarding disasters aren't confined to mere sweeping and mopping of floors. That part can be done by any house cleaning company. However, before that can be done, our junk removal list includes removing all nasty debris. Sometimes the practice of hoarding creates negligence in maintaining the basic necessities of a home, such as the plumbing. Our junk removal and hauling guys will remove anything, including sinks and the like.
Our junk removal and cleanout services far surpass other companies that claim to do what we do.
Our Hoarding Cleanouts Are Thorough and Efficient.
727-365-7892.