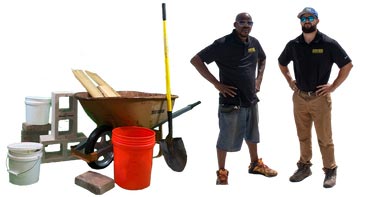 Are you up to your neck in clutter and debris from that home remodeling project? Rent a dump trailer from Done Rite Hauling, fill it up with all the waste material and our junk removal pros will haul it all away for proper disposal. Or, better yet, let our junk cleanout guys load up a rental trailer for you. Miscellaneous debris from a house or office remodel job can add up to quite a pileup of construction remnants, including walls, concrete, plumbing fixtures, roofing tiles, empty paint cans, cabinets and more. Even the smallest of remodeling items like screws and nails that have gone astray, add to the burden. Our hard working junk removal crews perform full on cleanouts of all remodeling scraps and debris. Our company services save you the hassle of all the tiresome cleaning work involved in remodeling. Our guys load up our company owned trailers and rental dumpsters in a timely manner and haul everything away responsibly, to a legal landfill or, if feasible, a recycling center.
Sit back and relax and let us do the remodeling debris and junk removal cleanup for you.
Contractors love the convenience of our dumpster rentals while on a remodeling job. By having the availability of a conveniently placed trash container nearby, builders are able to perform and complete a remodeling project quicker and more efficiently. Done Rite Hauling provides dumpsters and trailers that are strong and kept in good condition, making it possible to cart off heavy remodeling material, as well as the smallest of remodeling debris. It's more cost efficient for a construction company to rent a Done Rite dump trailer than having to purchase and maintain its own receptacles. It's also a plus for contractors in that they can concentrate solely on their remodeling and building business and leave the cleanup and hauling to us.
Get Your Free Estimate Today.
727-365-7892.